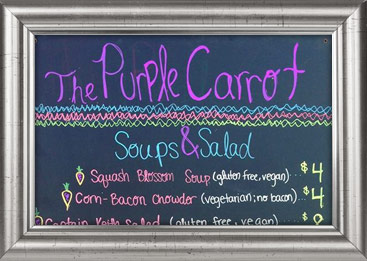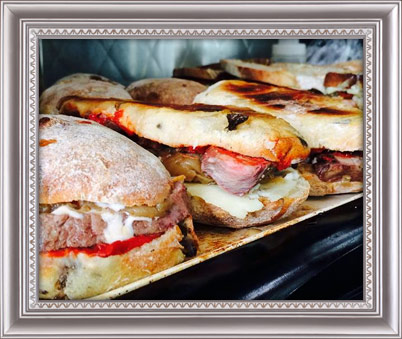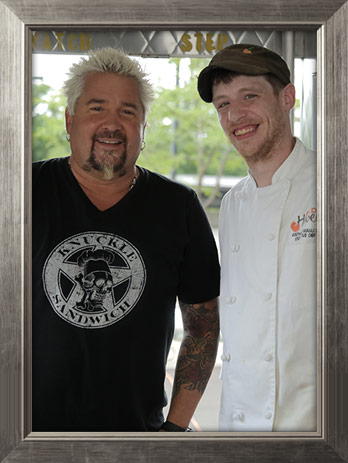 The Purple Carrot Food Truck
The Purple Carrot Food Truck launched in 2013 as Michigan's First Farm to Truck food stand. Our goal is to serve innovative, creative and fresh cuisine by utilizing the abundance of flavors Michigan has to offer. We work directly with the farmers who grow the food and buy it when it is ripe and at its peak to be served, because food is only as good as the ingredients you start with.
Our mission can be summed up by our tag line:
Eat Fresh. Eat Local.
Location
The Purple Carrot Truck will not be out for the 2019 summer season. We are working on a few projects that will require us to take a short break at the truck, but fear not we will be back as soon as we can! In the meantime please visit us at at our restaurant
Red Haven
! For catering inquiries or other questions email
nina@eatredhaven.com
Upcoming Airdates of DDD
on Food Network
Upcoming Airdates of GGG
Connect with Us


What We Make
We believe the best food starts with the highest quality ingredients. That is why The Purple Carrot's menus feature almost exclusively Michigan products. We have found the best Michigan has to offer to deliver you an unforgettable dining experience time after time. Our menus change with the seasons so come back often for the most recent local harvests!
Sample Menu
[DDD Mash Bites]
Panko Crusted Liquid Potato Croquettes, Baby Arugula Salad [7]
*[DDD Shrimp Burger]
Okemos Shrimp Burger, Cabbage-Apple Slaw, Tarragon Aioli, Brioche Bun [15]
[Greek Freak Salad]
Chopped Blue Mitten Romaine, Roasted Red Pepper, Monroe Farms Fennel, Marinated Olives, Fluffy Bottom Feta, Lemon-Oregano Vinaigrette [10]
* [Tofu Banh Mi] (vegan)
Vietnemese Marinated Tofu, Lentil-Walnut Pate, Pickled Carrot & Jalapeno, Brinery Sriracha Veganaise, Monroe Farms Micro Cilantro [10]
* [Buffalo Chicken Salad Sandwich]
Pouched Double L Farms Chicken, Carrot, Celery, Blis Blast, Blue Cheese Aioli, Pretzel Bun [10]
chocolate cherry cake pop [2]
cherry-basil sun tea [2]
soda / water [1]
* menu items served with a side mixed green salad dressed in our house honey mustard vinaigrette